Promotional Materials
A marketing team at The Concept Farm created content for this series circa 2005 - 2007. The sites they created / wrote for included Fang's Blog, wingkidsarereal.com, and instituteforhigherliving.com. They also created some content that ran on the main site, but let's begin with the individual websites.
---
Fang's Blog
This blog still exists, but images in many of the posts have succumbed to link rot. I've recovered a handful of them, which you can view here.
---
wingkidsarereal.com
Accessible at the Wayback Machine.
This site is referenced in two blog entries from 2005:
Winged Kids: The True Hollywood Story? [June 13, 2005]
Paranoia! [June 16, 2005]
---
instituteforhigherliving.com
This site no longer exists, and while I haven't been able to find an archived version of it, I can tell you a little bit about it. I've used TinyURL links at some points because linking to forum threads on archive.org is a little difficult.
In June 2005, a poster on the Maximum Ride forums found the site, and made a thread about it. At that time, attempting to access the site popped up a login form requesting a username and password. Attempts to use usernames / passwords based on the book failed.
By August, the thread has become an impromptu roleplay session. But the last post on the page reveals something: someone crossposted the link to unfiction.com, then the premiere ARG-solving community. If the MR.com forums couldn't crack this case, could unfiction?
Here's the unfiction thread. (Note: this thread was created by merging two separate threads created to discuss the site, so it doesn't read very well.) They don't get very far, but someone on the second page does turn up whois data to find out who owns the domain...
Surprise! It's the Concept Farm! (Also visible in the slideshow: content they created for the main maximumride.com site.) But I'm not sure if this news ever percolated back to the MR.com forums - unless someone else has backups, or was there and remembers how things went, this is where the trail ends.
Which is a shame, because I would love to know more.
---
Other Content
The Concept Farm was also responsible for some content that appeared on maximumride.com during its Flash-based period: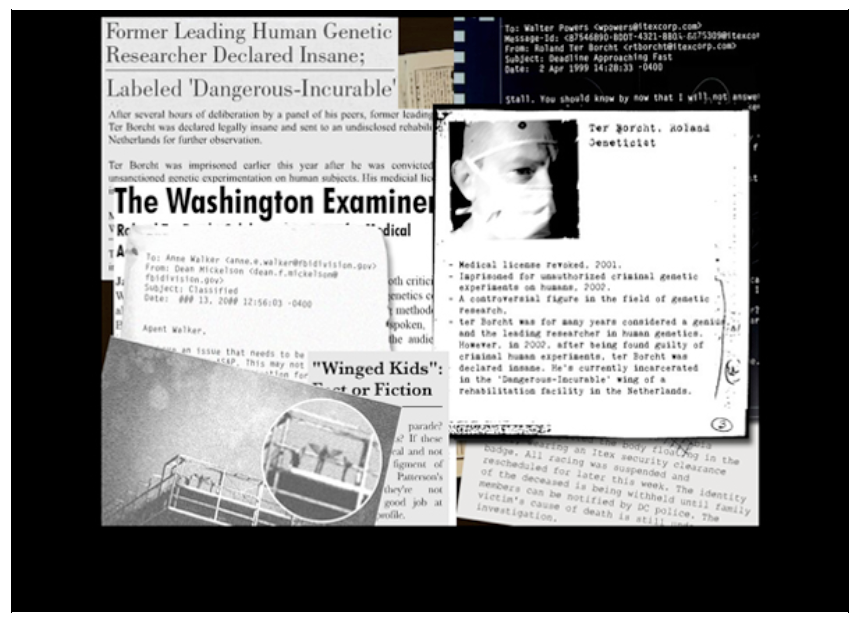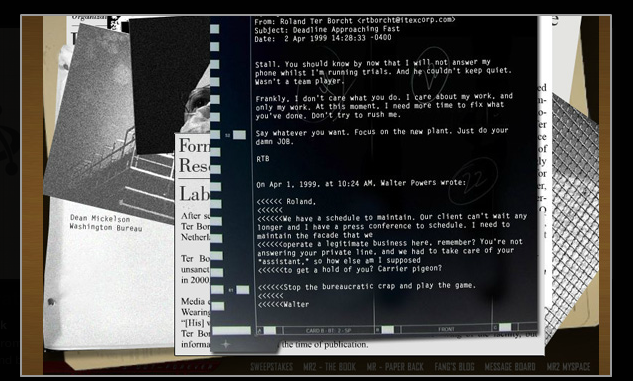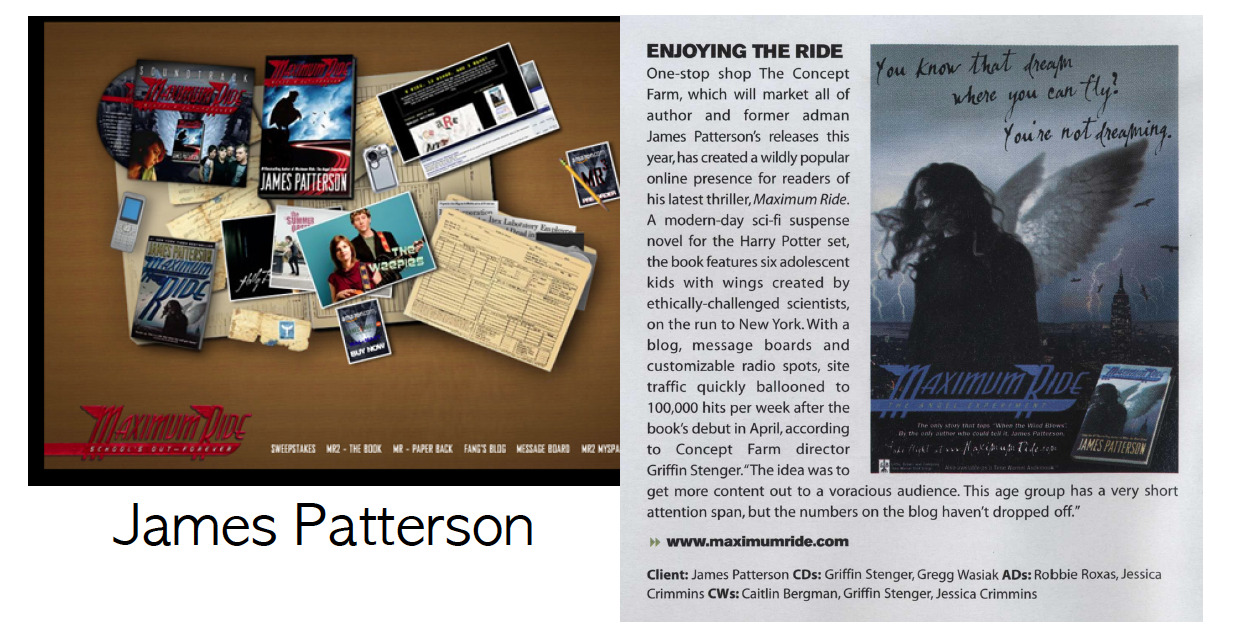 (The left half of this image shows what maximumride.com looked like around the release of the second book.)
Some of this material was included in paperback editions of the second book.
Image credit for the above: Caitlin Bergmann.
---
Image transcripts
First image.
Clockwise from top right. Almost all of these are only partly visible in this still image; when originally shown on the website, they were viewable in full.
An email to Walter Powers <wpowers@itexcorp.com> from Roland Ter Borcht <rtborcht@itexcorp.com>. Subject: Deadline Approaching Fast. Date: 2 Apr 1999. Message text: Stall. You should know by now that I will not answer...
An article. A black-and-white, close-up shot of a man in a surgical cap and mask appears at the left. Text:
Ter Borcht, Roland
Geneticist

- Medical license revoked, 2001.

- Imprisoned for unauthorized criminal genetic experiments on humans, 2002.

- A controversial figure in the field of genetic research.

- ter Borcht was for many years considered a genius and the leading researcher in human genetics. However, in 2002, after being found guilty of criminal human experiments, ter Borcht was declared insane. He's currently incarcerated in the "Dangerous-Incurable" wing of a rehabilitation facility in the Netherlands.
A newspaper article discussing a dead body found in Washington DC. This article is transcribed as the fourth image on my SOF scans page.
A newspaper article titled "Winged Kids": Fact or Fiction. Only a few words are visible:
parade? ... If these ... real and not ... figment of ... Patterson's ... they're not ... good job at ... profile.
A blurry black-and-white image showing winged people standing on the top of a building.
An email from Dean Mickelson <dean.f.mickelson@fbidivision.gov> to Anne Walker <anne.a.walker@fbidivision.gov>. Subject: Classified. Date: ### 13, 20##. Message text: Agent Walker, ...an issue that needs to be... ASAP. This may not...
An article from the Washington Examiner. This article is transcribed as the sixth image on my SOF scans page.
An article. Title: Former Leading Human Genetics Researcher Declared Insane; Labeled 'Dangerous-Incurable'. Article text:
After several hours of deliberation by a panel of his peers, former leading ... Ter Borcht was declared legally insane and sent to an undisclosed rehabili... Netherlands for further observation.

Ter Borcht was imprisoned earlier this year after he was convicted... unsanctioned genetic experimentation on human subjects. His medical lic...
Second image
This is the same collage structure as the first image, but with one document at the forefront. Partly visible behind it are some of the texts transcribed above.
This image is an email conversation between Roland ter Borcht and Walter Powers. A fragment of it appears in the first image; this is the full email. I've stripped the formatting and presented it in chronological order for ease of reading. Email text:
On Apr 1, 1999, at 10:24 AM, Walter Powers wrote:
Roland,

We have a schedule to maintain. Our client can't wait any longer and I have a press conference to schedule. I need to maintain the facade that we operate a legitimate business here, remember? You're not answering your private line, and we had to take care of your "assistant," so how else am I supposed to get a hold of you? Carrier pigeon?

Stop the bureaucratic crap and play the game.

Walter
From: Roland Ter Borcht. Subject: Deadline Approaching Fast. Date: 2 Apr 1999 14:28:33 -0400
Stall. You should know by now that I will not answer my phone whilst I'm running trials. And he couldn't keep quiet. Wasn't a team player.

Frankly, I don't care what you do. I care about my work, and only my work. At this moment, I need more time to fix what you've done. Don't try to rush me.

Say whatever you want. Focus on the new plant. Just do your damn JOB.

RTB
Third image
On the left is a zoomed-out view of the maximumride.com front page before the release of the third book. It looks like a desktop. Clickable images appear. Brief descriptions, some based on my best guess, clockwise from top right:
The front page of Fang's Blog, early March 2006. It's showing this entry.
A link to buy the first book on Amazon.
A manila folder - clicking this would show you the papers you've just read.
A link to a soundtrack album featuring the Weepies and other bands.
A link to purchase one of the books on Amazon.
A tattered piece of yellow paper with a blue logo. This led to a minigame where you could design yourself as a birdkid, using your own uploaded photos.
An image of the first book's cover. This led to the subpage for the paperback edition.
Link to the soundtrack album for the second book.
An image of the second book. This led to the subpage for this book.
On the right is a short article about the Concept Farm's work for Maximum Ride. It includes a full-page magazine ad for the first book: the text I can read says "You know that dream where you can fly? You're not dreaming." Article text:
ENJOYING THE RIDE

One-stop shop The Concept Farm, which will market all of author and former adman James Patterson's releases this year, has created a wildly popular online presence for readers of his latest thriller, Maximum Ride. A modern-day sci-fi suspense novel for the Harry Potter set, the book features six adolescent kids with wings created by ethically-challenged scientists, on the run to New York. With a blog, message boards and customizable radio spots, site traffic quickly ballooned to 100,000 hits per week after the book's debut in April, according to Concept Farm director Griffin Stenger."The idea was to get more content out to a voracious audience. This age group has a very short attention span, but the numbers on the blog haven't dropped off."

> www.maximumride.com

Client: James Patterson CDs: Griffin Stenger, Gregg Wasiak ADs: Robbie Roxas, Jessica Crimmins CWs: Caitlin Bergman, Griffin Stenger, Jessica Crimmins
---
Go back to the Official Sites page.
...or the Official Materials page.
---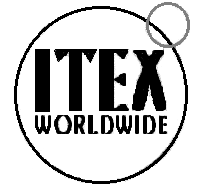 ---
Last update: 12 August 2020.